Two recent news stories came up that warrant some attention in the rockhound community.
In this article by Erin Place in the Sun Journal, mineral collecting location is closed due to one person's greed.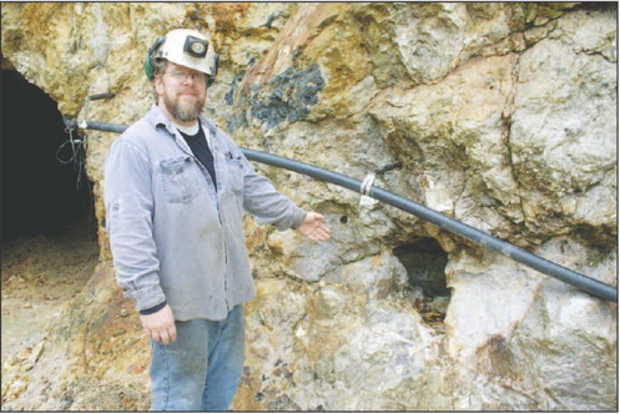 Above, you can see Mount Mica employee David Bechtel pointing to the hole where a chunk of a rare mineral was gouged out on Saturday. Due to this incident, tours and access to the famous Maine Pegmatite mine are now restricted. Mine owner Gary Freeman has been working with various Maine Camping groups doing frequent tours of Mount Mica, a working gem mine. During these trips, it would be noted that the pods of columbite in the front of the mine were highly desirable, which lead to some visitor returning and helping themselves to a huge chunk of this material. The greed of some people will now have a negative effect on the visitors to Maine's Gem Pegmatites.
In southern California we have a new National Monument, the San Gabriel Mountains. This National Forest has been blessed with some amazing mineral deposits and breathtaking geology. Two famous locations will now be closed to collecting, the Actinolite deposit in Wrightwood and the Ruby/Lapis deposit of Mt. Baldy. Under the new National Monument standards, it will be illegal to remove or disturb any rock or mineral within the park boundary.
The Actinolite deposit in Wrightwood is the better known of the two, featuring a bright green, massive mineral, actinolite. In those mountain ridges, occasionally one is rewarded with a bright pink rhodonite specimen, massive material that you can cut spheres and decorative slabs. Many of the actinolite deposits in Wrightwood are massive in size, sometimes it is hard to find a specimen small enough to take home, soon you could be serving jail time for doing this. If it were not for the promise of Actinolite specimens, I would have never ventured up into this area of California. The view of the mountain ridges rippling out, covered in tall conifers, simply fantastic and a future generations of rock hounds will not have that same reason to appreciate a day in the mountains of Southern California.
Less well known, but even finer of a location for minerals, Cascade Canyon, a few miles south of Mount Baldy Village. From the bottom of the canyon to the tip top, outcrops of matrix rich in small hexagonal crystals of Corundum, red in color, often called ruby, but not of gem quality like one would envision. These outcrops are vast and numerous, both easy to access and tucked away in folds of this mountain canyon. Along with these ruby crystals, small crystals of dravite tourmaline, epidote, pyrite and mica appear. Along Barrett-Stoddard Road, a closed off dirt road popular with hikers and bikers, deposits of ruby and calcite/diopside appear and further up into cascade canyon, small bits of Lapis can be found in the wild skyless canopy of mountain vegetation that is the upper levels of Cascade Canyon. Years ago there was a working Lapis mine, however several landslides have rendered the area unworkable. For our 9th anniversary, my wife and I collected a few bits of Lapis from the stream, as Lapis is one of the traditional gifts for the 9th year of marriage. Once the park boundaries are set, we could face fines and a few months in jail.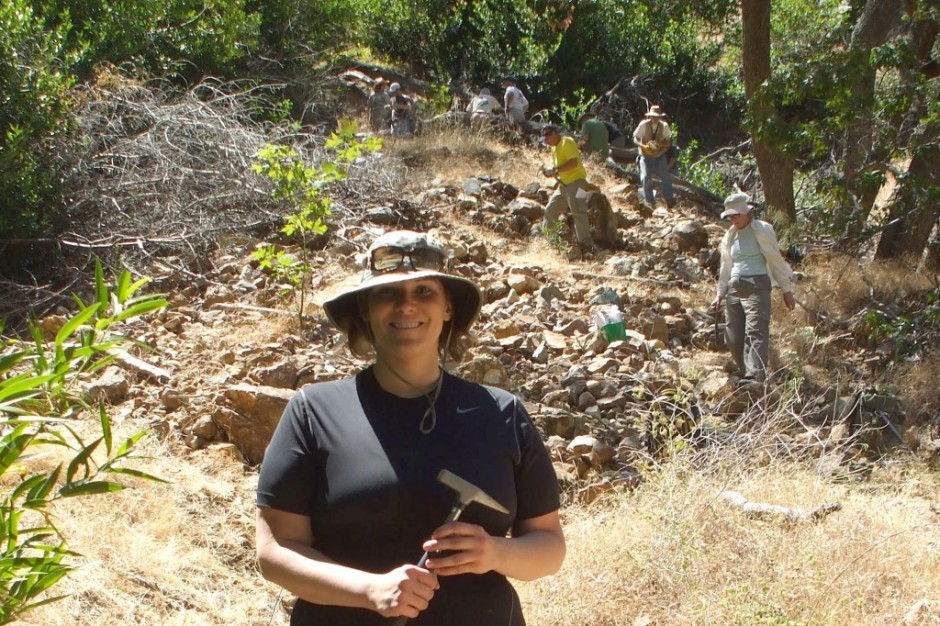 Above: Photo of a field trip to the bottom of Cascade Canyon, in search for the metamorphic chunks containing small crystals of red corundum.
The Cascade Canyon deposit had the advantages of being an easy hike, somewhat adventurous, with a great mineralogical reward and an amazing geological tour. The folds in the rocks leading down the canyon tell a story that will now get quieter, as mineral collectors who are interested in the rock's stories will vanish, like so many ghosts of time that litter Southern California. The hike down the old mountain road, into the woods, across the river, along the foot of the mountain to the site of one massive spill of ruby filled goodness might be stuck into the magnetite grains that make up some of the local rocks in the canyon, playing back like a ghostly tape, documenting amazing experiences.
Related posts: