Announcement – Justin Zzyzx, Dylan Trevors and Pu Tzu have created a line of educational toys, called Illumigems, that will appeal to rockhounds and mineral collectors, and the public at large!


We just love crystal models. Whenever I would visit a real mineral collector, there would always be some sort of mineral sculpture or antique crystal models intertwined with the minerals. Crystal models are very decorative and cool, yet also, educational, if utilized as such.
Certainly, the production of crystal models in plastic has been difficult in the past. It is now 2015 and the technology has grown since we first started working on plastic crystal models, what was once difficult to produce has become possible with our limited production line for Illumigems, our non-toxic resin crystal models that glow in the dark, quite drastically, for hours. We have been casting real quartz crystals for our initial prototypes and released them for sale at the Tucson Mineral Show. Now, we are seeking advanced orders which will allow us to get the heavy duty machinery to produce our crystal models and packaging. We seek to mass produce series of crystal shapes, as we go along and release new models, older models will go out of print. The first series planned is going to include 3 large models, approx 3-5 inches in size, a 90 degree Staurolite, a classic Japanese Law Quartz and an ideal Benitoite. They will be on a printed cardstock back, mounted with a plastic bubble on the front. The back of the card will include facts about the minerals, on a card that encourages being cut out and saved. Our website will also include educational information about these models. We are doing two different sets of three crystals, in various forms and twinning. Fluorite and Feldspar, they will be around 2 inches each. We plan on always producing various quartz crystal shapes as our flagship product.
If each person who reads this helps us with a $25 backing on kickstarter, we can be funded in three days! Here is the REAL kicker, for $25 you can get, with shipping INCLUDED in the price, one of our larger quartz crystals and one of our necklaces. Or, you could get 6 necklaces and a keychain crystal. We will sell our larger crystals for $25 retail, and our necklaces are $6, so every kickstarter package is a great value. We will fulfill orders quickly, so back us on kickstarter and right at the start of summer, you'll have some Illumigems at your door.


And if you REALLY love the idea of these crystal models, check out our limited Series One Backer Reward – Quite a deal at $500 Series One Backer – Get two of EACH model from Series One, a complete set in package and a complete set loose, to play with. shipped in August – Including one SPECIAL LIMITED EDITION Kickstarter Model, a special model limited to 20! You'll have one of the twenty limited crystals! – That's two of Everything produced for series one, packaged Illumigems of various sizes and shapes, plus a very special limited edition Illumigem, sent to you in August 2015 – price including domestic shipping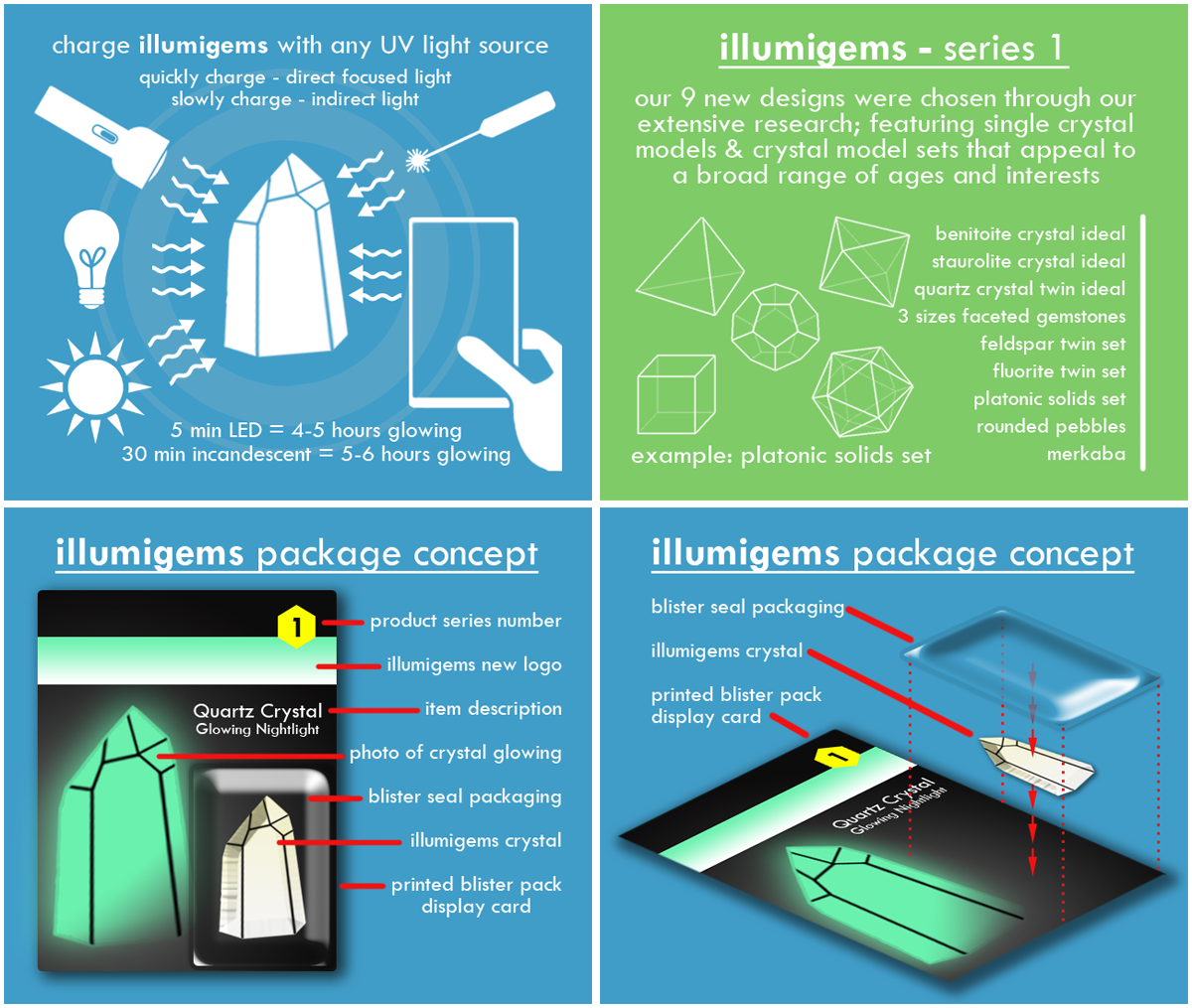 We know we have broad market appeal, everyone young and old, from every walk of life, loves to see Illumigems glowing in action. They are fun!


And because we are all mineral fanatics, we can make this fun glowing plastic model and mold them after something we love!
There is a need for crystal models, with the funding from our Kickstarter campaign, which ends on April 24th, 2015, we will be able to produce them at our warehouse in Sebastopol California.
Illumigems make great gifts and you are going to love seeing your own around the house. They make a great night light, decorator item and conversation starters, it is a BLAST to show people how strong the glowing reaction is! You can not go wrong by lending us your support and purchasing our Illumigem Quartz Crystal Models during our Kickstarter campaign.
If it is not your cup of tea, perhaps you could share the link with someone who might be interested – come check out the facebook page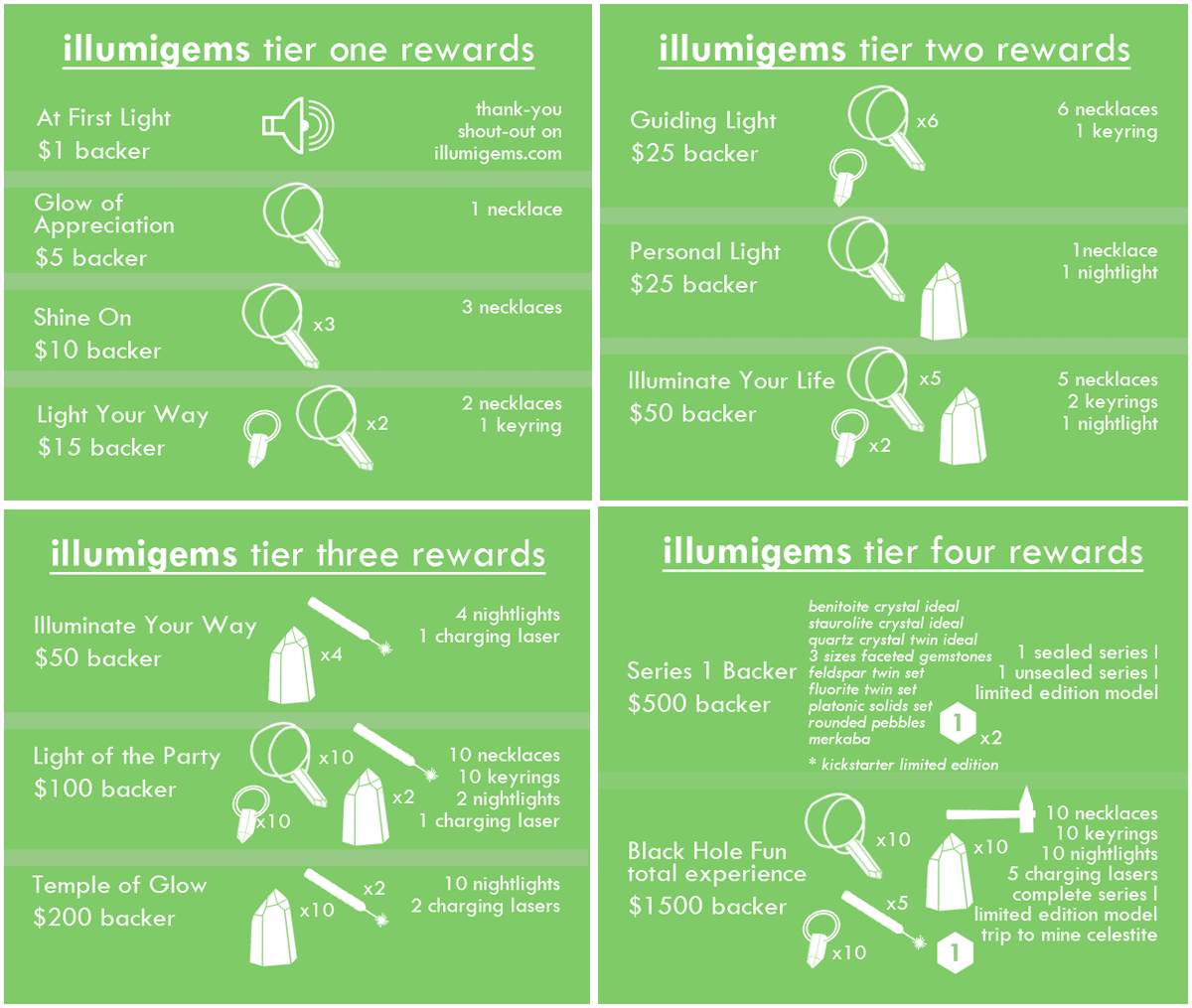 Related posts: