Field Trip: Copper Country Collecting in Michigan's Keweenaw Peninsula
By Jeremy Zolan
Difficulty Level: Easy to Moderate
Supplies Needed:
Safety Goggles
Water
Sunscreen
Insect Repellant
Crack Hammer
Chisel
Shovel
Wrapping Paper for Specimens
Bucket
Sledgehammer (optional)
Prybar (optional)
Metal Detector (optional)
Description:
The Keweenaw Peninsula of Michigan has been nationally famous for over 100 years for its history of highly productive copper mining. The local basalt is criss-crossed with many thick veins of native copper that made up the main ore of many of the mines. Solid natural masses of copper weighing hundreds of pounds were found with relative frequency at the mines. Though these pieces certainly were the most valuable ore, the best specimens from the area are clusters of well formed copper crystals. Other metallic minerals can be found with the native copper such as silver, domeykite, mohawkite, and chalcocite. Many other interesting minerals like datolite, analcime, prehnite, agate, and thomsonite are also abundant in the Keweenaw Peninsula. While all the mines of the region are closed to copper production, many are maintained as museums and fee dig sites. There are also many abandoned mines in the area that can provide good digging in the dumps but be sure to acquire permission from landowners before visiting any location on private land.
Localities:
Central Mine:
US 41
Central, MI 49950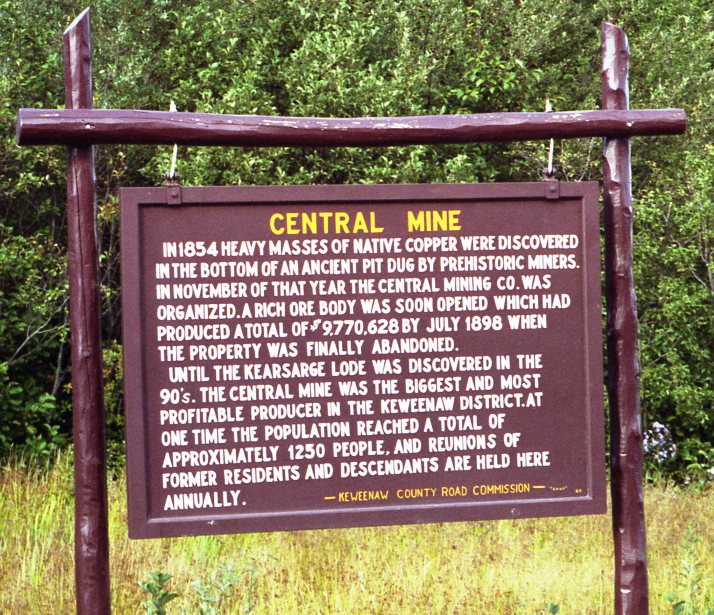 Photo by Dave Maietta
Map:

The large tailings piles of the Central Mine are visible from US 41 in Central, Michigan. Many collectors have had good luck recently working this location. Occasionally, contractors remove large quantities of tailings for construction purposes and this exposes fresh material. In addition to the standard copper specimens, copper included calcite and prehnite can be found here. Silver has also been found with copper here but it is rare. A metal detector is very helpful for sorting trough dump piles like those found at the Central Mine.

Caption: Calcite with copper inclusions. Central Mine, Central, MI 4.9 cm x 4.6 cm x 4 cm Ex. Rukin Jelks Rob Lavinsky Photo
Caption: Unusually large copper crystal. Central Mine, Central, MI. George Vaux collection at Bryn Mawr College. Scale bar is 1" long with rule at 1cm. Rock Currier Photo.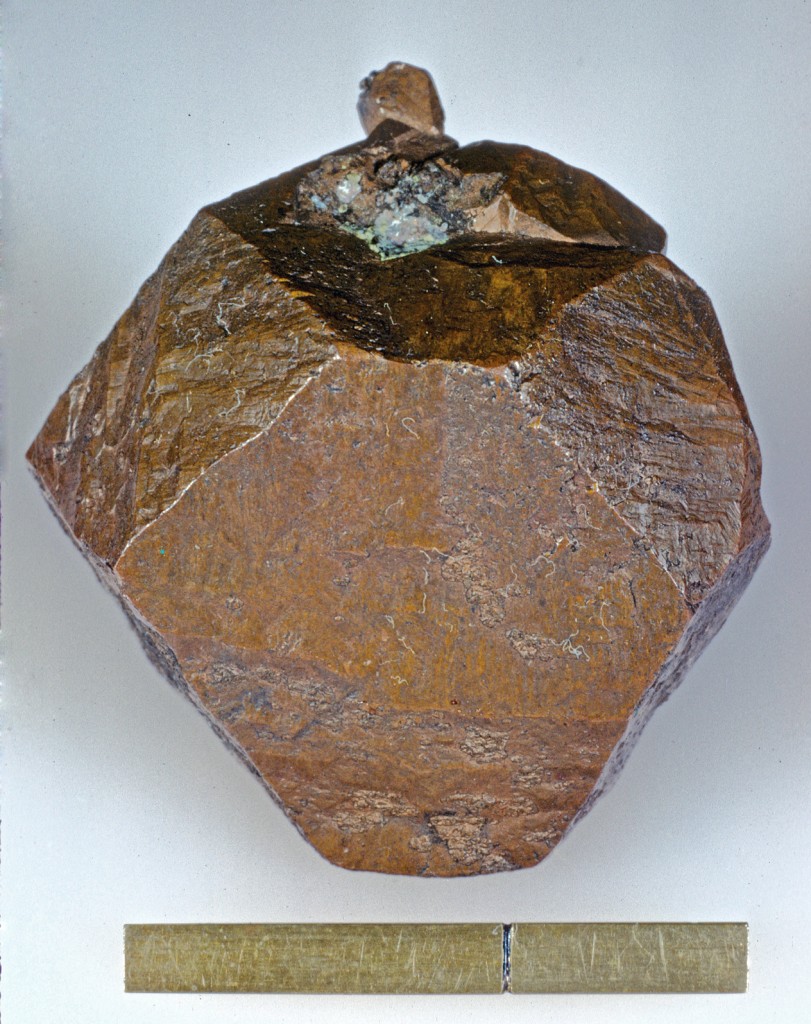 Caledonia Mine:
Website: http://www.caledoniamine.com/
906-370-1131
202 Ontonagon St,
Ontonagon
Michigan 49953
The Caledonia Mine is a fee dig site that requires an advance reservation. When digging at this site, collectors are given a large pile of stockpiled copper ore and tools to go through it. Weekly collecting events on Thursdays and Saturdays are also held from the first Thursday in June to the last Saturday in August on the ore pile. Advance reservations are needed for these too. The workings of the Caledonia Mine are impressively preserved and tours are offered too. The mine tours aren't necessarily just geared for casual guests. Many kinds of tours are offered, some with a very in depth historical or scientific focus. It is best to check the museum calendar to see if any events are happening during the time of your visit.

Caption: Representative specimen of native copper from the Caledonia Mine's recent workings. 5.6cm wide. Rob Lavinsky Photo
A.E. Seaman Mineral Museum
Website: http://www.museum.mtu.edu/
Michigan Technological University
1404 E. Sharon Avenue
Houghton, Michigan 49931-1295
E-mail: tjb@mtu.edu
Telephone: (906) 487-2572
Michigan Tech's A.E. Seaman Mineral museum is among the finest mineralogical museums in the world. Its laboratories are also critical in performing much of the cutting edge mineral research currently being performed. During the period of most intense copper mining in Michigan, many specimens of local minerals were donated to the museum. Their collection of Michigan minerals is the finest in the world and there is a strong local emphasis on their displays.
Check out our custom search and view all the minerals from Michigan for sale on eBay. Not only will you see lots of neat stuff for sale, you'll also get an idea of what localities are producing in the region.


Related posts: