Illness, Divorce and Attacking Ants – The "Curse" of Stolen Petrified Wood



At the Petrified Forest National Park in Arizona, stealing used to be a very prominent problem. People would frequently smuggle pieces of petrified wood they called "rocks" on their way out, leaving the park 12-15 tons short of these scientifically valuable fossilized minerals.

The Petrified Forest

Petrified tree branches and roots there had transitioned into a solid and rock-like state in a process called permineralization. It has spanned over the course of millions of years, leaving a terrain with smaller and larger pieces of petrified wood scattered everywhere.
Naturally occurring Arizona petrified wood plays an important role in multiple ongoing scientific studies, and their integrity had been put under risk by the rampant cases of stealing. After all, people who take tiny rocks don't feel liable for the fact it amounts to more than a ton worth of stolen petrified wood per month.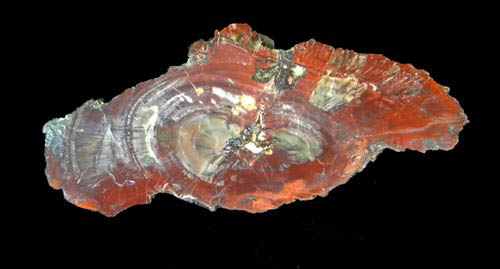 Iron inclusions in the stone cause the red color commonly found in petrified wood from Arizona

Trying to Combat Theft

Rangers would set up inspection stations on the road out of the park, run regular roadside sweeps and put up signs telling people to be more conscious of the regulations at Petrified Forest National Park, with mixed results.
In an unusual twist of events, however, the cases of stealing start to decrease as people become caught up with a certain mysterious "curse" that hits all thieves of petrified tree branches and roots. One of the odd psychological effects seen comes from the signage at the park. During years of having signs indicating that collecting was forbidden, theft was at an all time high. Without the signage, reported volumes of stone removed from the park plummeted. Possibly, the signs indicated that the wood is something WORTH stealing.

People Cursed by Arizona Petrified Wood

It appears that in the years of its existence since 1906, the Petrified Forest National Park of Arizona has been swept by people who return pieces of petrified wood and share stories of their misfortunes on small, sincere paper notes. The park now has them displayed in the aptly named Guilt Room. A single tour of the place persuades many people not to challenge the terrible "curse".
The touching stories told by cursed individuals are nothing short of heartbreaking, and sometimes quite funny.

• A woman had stolen the unlucky rock on her honeymoon trip, which lead to a bitter divorce and a 20-year relationship with an abusive man.
• A man was dumped by his girlfriend of 3 years on his drive out of the park.
• One woman wonders if her husband's early death and grandchildren's pneumonia could be induced by the curse.
• Right nearby, someone writes about stomach cramps and diarrhea that followed the act of stealing.
• A different note tells a story of a group of five girls, each of them suffering the consequences of defying the curse that involved illness, vomiting, an attack of flying ants and many spilled drinks.
Legitimate or not, the countless notes found in the Guilt Room contain reports of seizures, hernias, giant blisters, plane crashes, drinking problems, divorces and other misfortunes that all link back to that time when their authors picked up the cursed rocks at the park.
At least their sacrifice has not been for naught, as it shames some of the visitors into keeping to the park's rules to avoid a similar fate.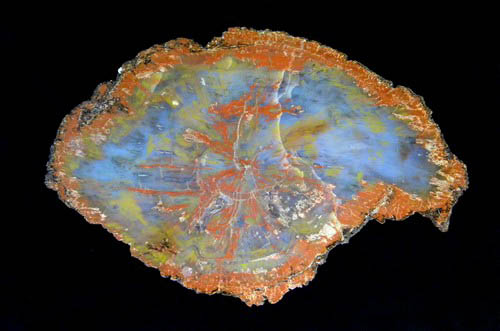 Petrified wood is better when it is free of guilt, such as buying a slab from a dealer who specializes in wood, like Tom and Steven Wolfe of TomWolfeMinerals.com

No Happy Ending?

The stories keep coming and the rocks are returned. Sadly, the recovered pieces of petrified tree branches and roots can no longer be returned to their rightful place. With no way of knowing where each piece originated, important patterns of scientific research would surely be tainted.
Fortunately, both these "cursed" rocks and the sad notes that tell their story find a new home in the Guilt Room at Petrified Forest National Park, so the would-be thieves can be warned by others not to repeat their foolish mistakes.

Do not trifle with the curse of Petrified Forest!

Instead of risking for your note to be in the spotlight at Guilt Room a few years down the lane, why not buy Arizona petrified wood from TomWolfeMinerals.com? There are legal collecting spots outside the park as well as plenty of park adjacent places to buy wood, but for those who are just in love with petrified wood, Tom and Steven Wolfe of TomWolfeMinerals.com are passionate about petrified wood and not only do they have great petrified wood material from Arizona, but also from around the world.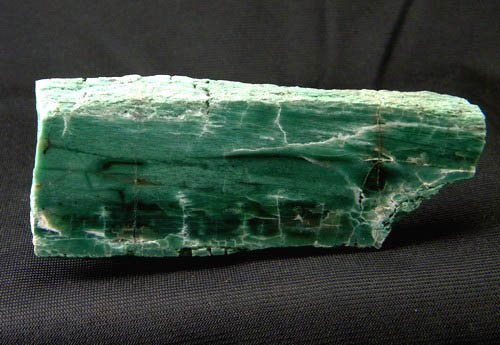 While not from the petrified forest, this is found nearby, near Winslow Arizona. The green color is from inclusions of chromium, which is very uncommon.
Related posts: