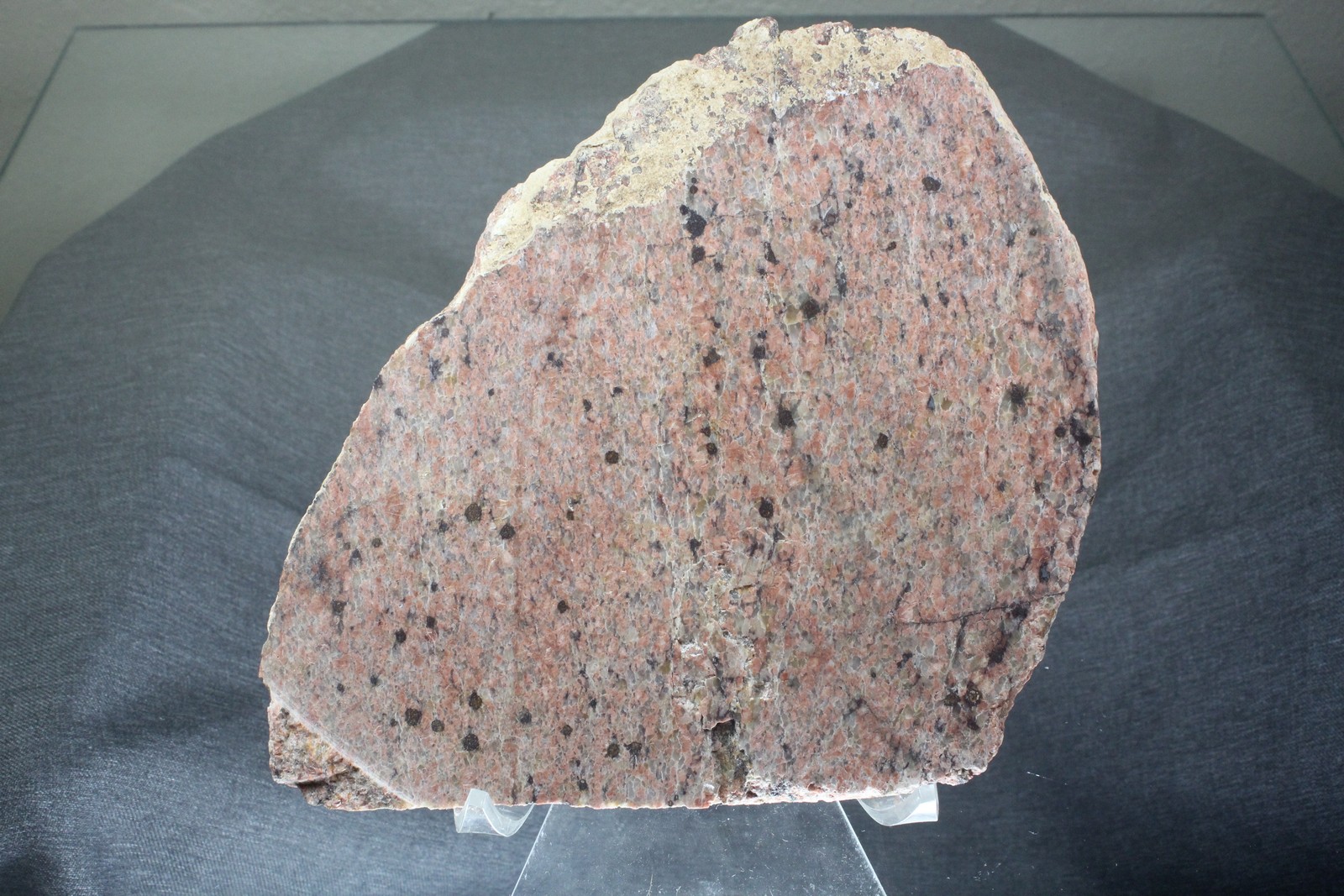 Mountain Pass is a famous mineral deposit that is found between Baker California and Las Vegas, immediately off the sides of highway 15, making access to the huge deposits of rare earth elements absurdly easy.
However, easy as the deposits are to get to, please don't think of giant sparkling crystals…or even dull, earthy, single crystals. The diverse mixture of minerals found in the Mountain Pass district occur as frozen crystals in a barite-carbonate deposit. That means, these are just…rocks. Or, rather, solid chunks of minerals, requiring some lapidary work to enjoy the wonderful mineralogy found in this interesting deposit.
The history of the Mountain Pass district is quite interesting, from the original prospecting for silver, gold and sulphides, to the uranium boom in the 1950's, when it was discovered that much of the belt of rolling hills north and south of the Sulphide Queen mine, which is right on the side of what is now highway 15, contained large amounts of radioactive rocks. While there was no uranium, the rocks are rich in heavy elements of cesium, lanthium, europium and neodymium. Mineralogically, we find a host rock of barium, dolomite and calcite that can have various mixtures of mica, apatite, bastensite, zircon and more. Take a peak at these microscopic drawings of thin slices of rock from Mountain Pass, as found in the USGS report HERE http://pubs.usgs.gov/pp/0261/report.pdf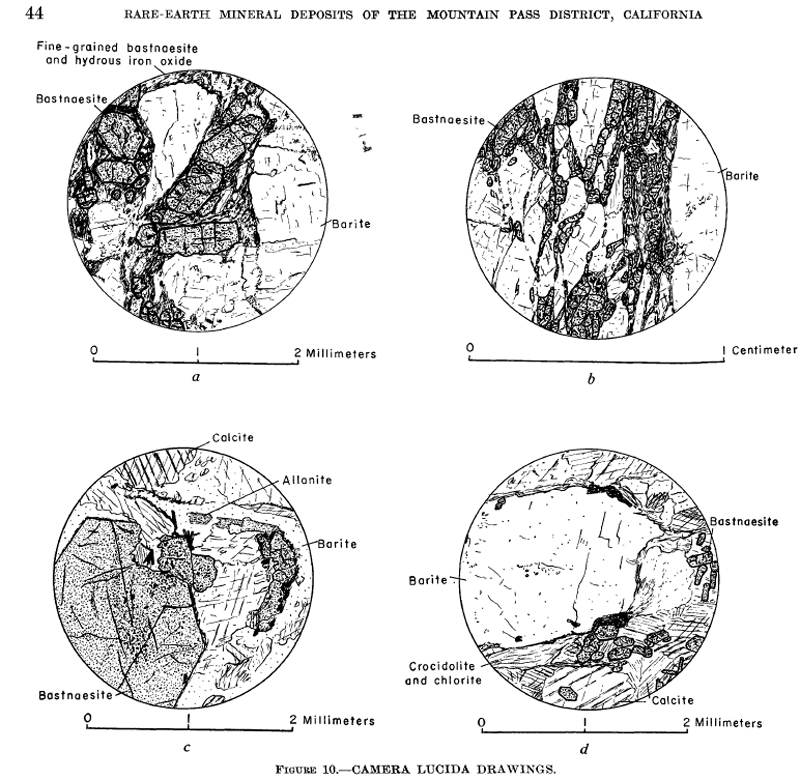 If you want to read more about the deposit, we suggest these links for more information as to the current production of ore at the only operating REE mine in the USA.
https://en.wikipedia.org/wiki/Mountain_Pass_rare_earth_mine
https://www.hcn.org/issues/47.11/why-rare-earth-mining-in-the-west-is-a-bust
http://www.cbsnews.com/news/rare-earth-elements-not-so-rare-after-all/
This is not TellMeAboutMineralDepositHistory.com, this is WhereToFindRocks.com! So, let me tell you how to add a specimen or two of this interesting mineral deposit to your collection!
We can start with MRDS, one of our favorite websites and a prospecting field collector's best friend. This site lists a vast majority of all claims made for mineral deposits and lays them out in a way that makes prospecting readily accessible to everyone.
We start out by getting close to the area we want to review, in this case, the Mountain Pass district.
Once we have this area outlined, we can request the data, using the button below the map. Personally, I enjoy using it with Google Earth and I will show you how that is done.
By selecting the google earth data output, we are given a page that shows a downloadable link to the data. Clicking the blue link and saving that file will give you a .kml file. If you have Google Earth installed, you simply need to double click this file and google earth will open up, showcasing the X's and crossed hammers of mine sites as shown on the MRDS map.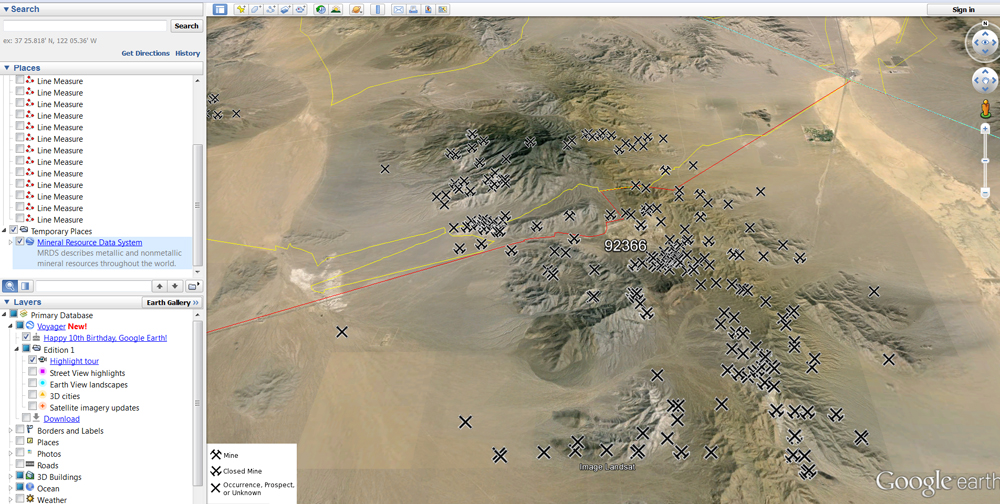 From here we can move into the map and start looking at the landscape surrounding the deposit. We can see the Mountain Pass Molybdocorp mining area to the north of highway 15, in addition to that, there are an abundance of X's South of highway 15.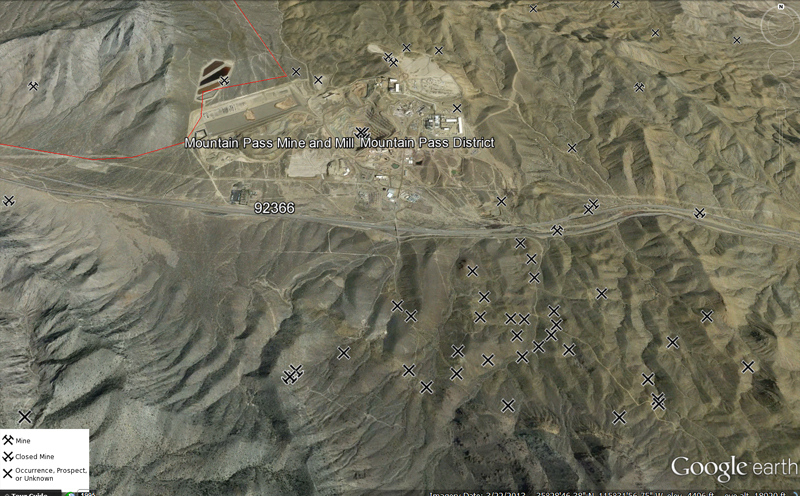 Clicking on the X's we can see the prospects, both inactive and active, for REE-Barium, scattered all over the hillside. You can clearly see the outline of the deposit from the borders of the prospects and note that many of these prospects are on the brown/tan outcrops along the mountainside. One simply needs to exit on Baily road and turn South. Several outcrops are readily available immediately off the road with minimal hiking.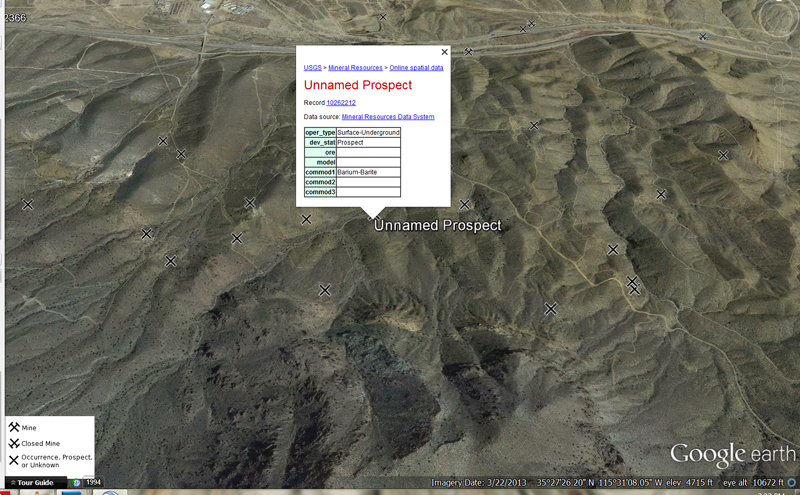 There are so many deposits along these well graded dirt roads, one could investigate them all day…or, simply stop here and stretch your legs on a trip from Los Angeles to Las Vegas and pick up a piece of this interesting material.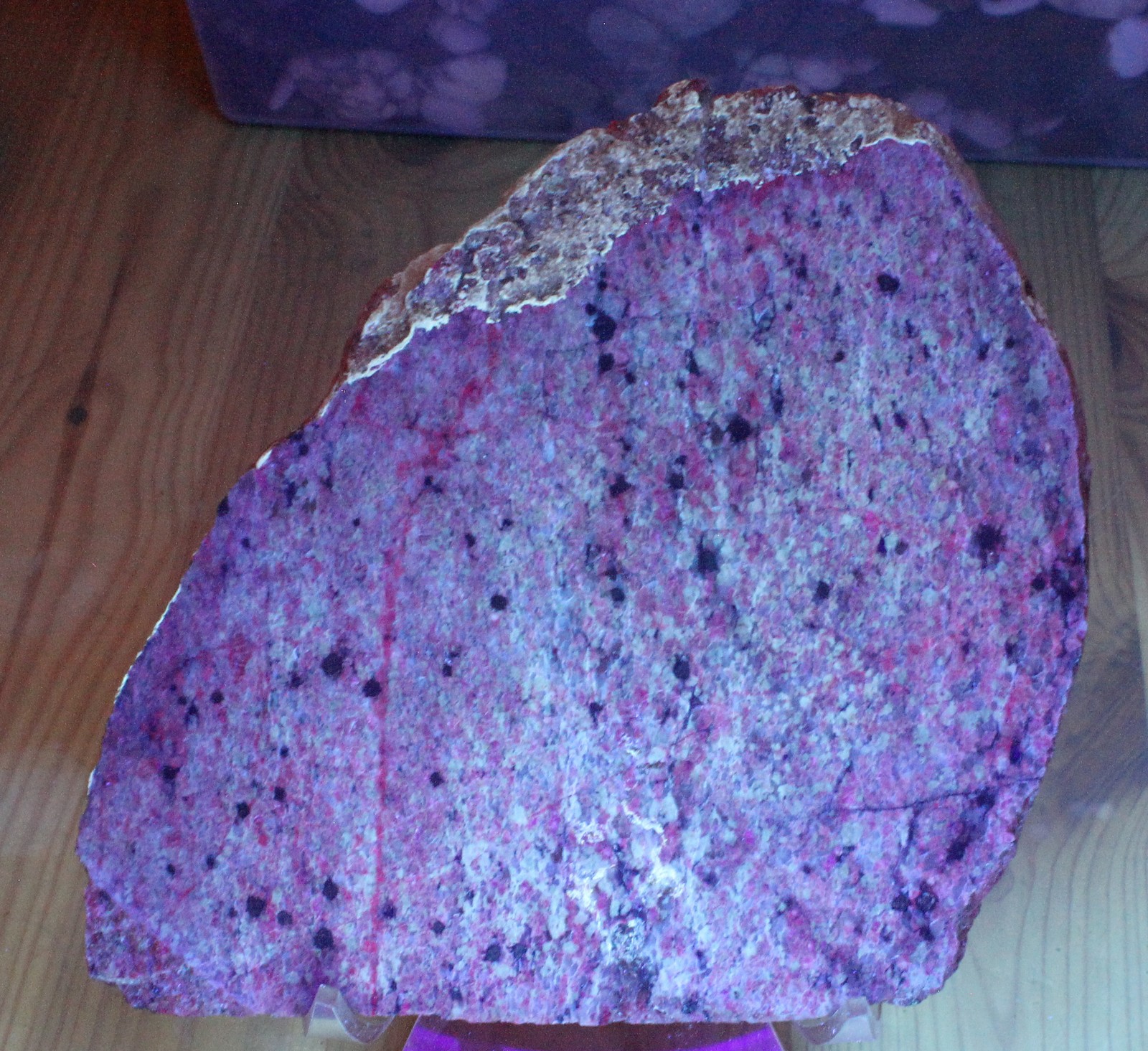 This photo was taken with a 18 watt Short-Wave UV light, showcasing the carbonate content reaction.
Related posts: