Rock Hounding West Texas for Agate and many other great finds
By Erin Balzrette
for Katy Rock Shop
http://www.katyrockshop.com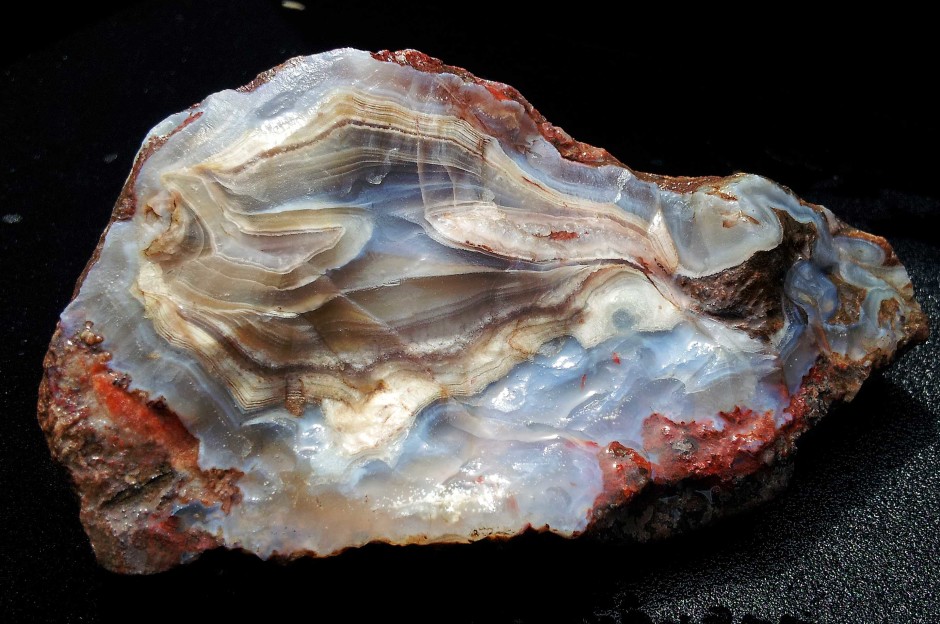 Above: Banded Agate from the Alpine Texas area
After rock hounding in Texas with a guide as amazing as Frank Roberts of Austin, Texas, Dawn and I felt ready to go it alone. Also, we begged Frank to come if we got lost or could not identify what we were seeing, and he emailed us all weekend to be sure we were safe. Like I said, we "went it alone", with Frank on stand-by. We grabbed a copy of The Gem Trails of Texas by Brad Lee Cross and decided to head out.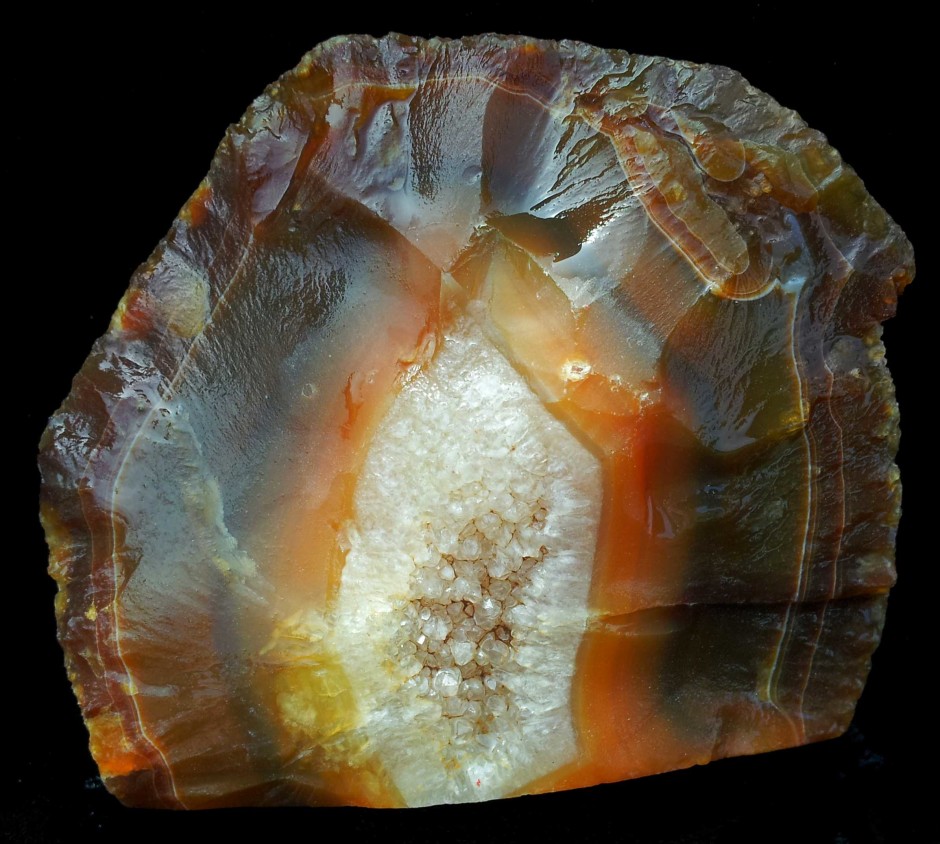 Above: Classic Agate from the Alpine Texas area
I called Paul at Moonlight Gemstone, of Marfa, TX, (432-729-4526) Bruce Huff, of Katy Rock Shop has a great respect for his beautiful work as do I, and I could not wait to see it for myself, and meet him. The Marfa agate is breathtaking. Paul Graybeal has exclusive rights to the private property in which most of Marfa agate is found. He explained that access to for us to do some hounding would not be possible. He keeps names or locations of land owners who place trust in him to protect their land from sought after agate to himself. It is easy to see why he protects the agate he does. It should be protected, and the land owners have the right to feel their trust has been in no way misplaced. Instead, he invited us to come see him work! This was an incredible offer that I was not about to miss! Paul is thoughtful, generous, patient and kind. I was as impressed by the man, as I was by the work he did, and the agate that surrounded us. Spending the afternoon watching him work, letting us work with him, learn from him, was and experience I will not forget.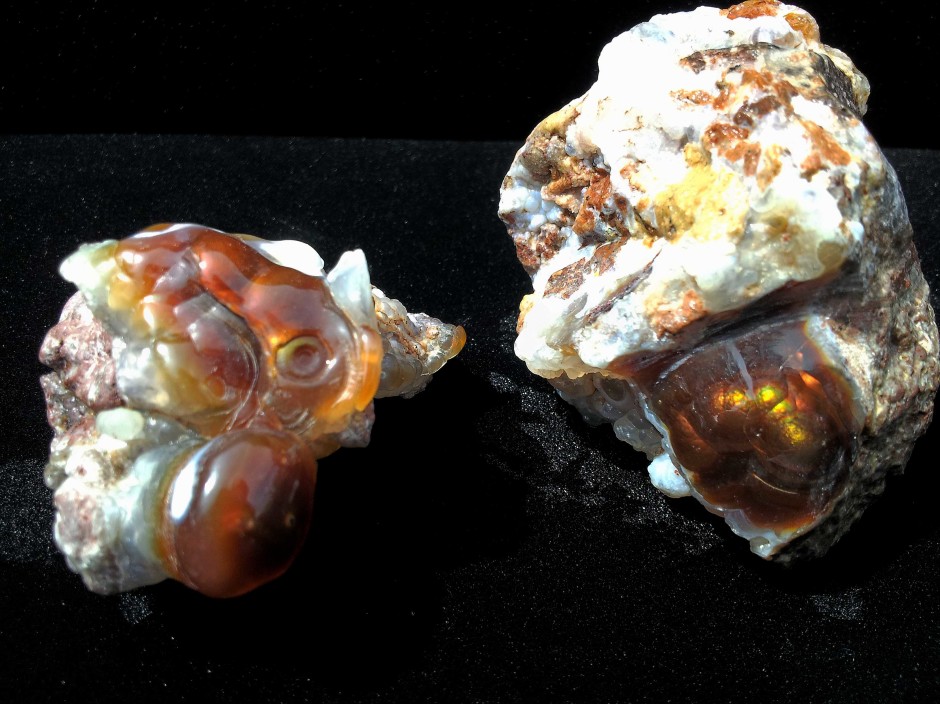 Above: FIRE AGATE from the Alpine Texas area
We couldn't wait to get to Woodward Ranch (WoodwardRanch.com) famous for the beautiful red plume agate only found there. There is so much more to find at the ranch! The Labradorite is a clear yellow! Opals that are gorgeous, and what she calls "yard art" is some of the most beautiful I have seen. (Yard art … no charge!) $6.00 a person, you are given a detailed map, a quick learner's course, and shoos you before it gets too hot! When you return she counts it out, $6.00 a lb. for agate. We each left paying 18 dollars, 2 lbs. of agate, and many more lbs. of "yard art" so beautiful I am thrilled to have found it. A few items I collected from this trip are on my website. She was a delightful woman who spoke of her late husband Trey in a way that made you want to sit all day and talk to her. I, like so many others, are so grateful that Woodward Ranch is still operating and allowing others to see the wonder it has to offer.
Terri Smith of Alpine, TX, emailed to explain that she will set up Agate "Hunts" for you, a group, or family, in the fall. THE FALL when it's….cooler? Terri is the logical one here. And so we will go back in the fall and go to the Ranches able to be hounded at that time on the tours given. The email was very nice and suggested that we try the book I had bought for the journey. I was grateful for the advice, and that I had picked the right book! I have heard only great things about Terri and her extensive knowledge of the area and experience.
"The Gem Trails of Texas Book" by Brad Lee Cross
, was for our purposes to the mile, correct and accurate in its description of findings, and location. We found beautiful Jasper at the picnic table Jasper sight 8 miles from Marathon. Exactly as the book said. Amazon is one seller that carries the Gem Trails Series.
Above: Iron Rich Agate Geode from the Alpine Texas area
The West Texas Agate was a trip we will never forget, filled with beautiful surprises showing in each piece you see from that area. While visiting the Katy Rock Shop, you will see pieces from all over Needle Peak, Woodward, Marfa, and so much more and it is all there waiting to show you the beauty of West Texas.
Please find links to Katy Rock Shop, Terri Smith, Moonlight Gemstone, Woodward Ranch, Frank Roberts, and more at my website www.treeclimbersjewelry.com. Pieces I collected during this trip are displayed on the site as well.
Above: Iron Rich Carnelian Agate from the Alpine Texas area
Here at WhereToFindRocks.com we love using Hotels.com
to find places to stay while out rockhounding!
And you never know when that hole in the ground is going to require working after hours on, so with Hotels.com
,
No hotels.com Change or Cancel fees on lodging bookings!

So, find a hotel around Marfa, Texas or Alpine Texas and get out and collect some Agates!
Related posts: