By: Jeremy Zolan
Difficulty Level: Easy to Medium
Supplies Needed:
Safety Goggles
Water
Insect Repellant
Shovel
Crack Hammer and Chisel
Paper for Wrapping Specimens
Bucket
Prybar (Optional)
Pick Axe (Optional)
Wheeler-Rex 590 Soil Pipe Cutter (Optional)
Search for Minerals from Iowa


Description:
View a map of the locations of these geodes by visiting MinDat.org's copy of this map
Click Here to Load Map
Geodes in the Warsaw formation of Iowa, Missouri, and Illinois. Each 'x' is a geode location. Originally from Arthur E. Smith (1997): Geodes from the Warsaw Formation of Missouri, Iowa, and Illinois, Rocks & Minerals, 72:6, 420-423. Updated and colorized by William W. Besse.
Many sites in the tri-state area of southeast Iowa, northeast Missouri and western Illinois produce geodes of world class quality. In fact, nowhere else in the world is richer in geodes than this strange area of the Midwest, where the Mississippian geode bearing Warsaw limestone formation is exposed near the surface. The geodes can reach 20cm across or larger and are mostly lined with quartz crystals though a variety of minerals like calcite, dolomite, sphalerite, and even millerite have been found in geodes. Geodes can be found wherever the Warsaw formation can be found outcropping. They can also be dug from riverbanks. Many fee dig sites for geodes are found in the areas of Iowa, Missouri, and Illinois rich in geodes.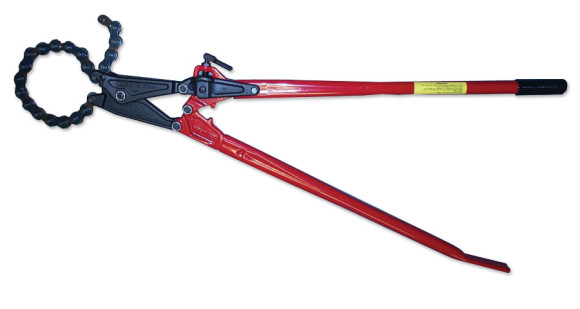 A pipe cutter, specifically the model above (Wheeler-Rex 590 Soil Pipe Cutter) is great for opening geodes. Simply score the geode around the perimeter lightly with a hammer and chisel, clamp the cutter around the perimeter of the geode, and then carefully apply pressure until the geode splits. It is most desirable to split geodes into two equal sized hemispheres.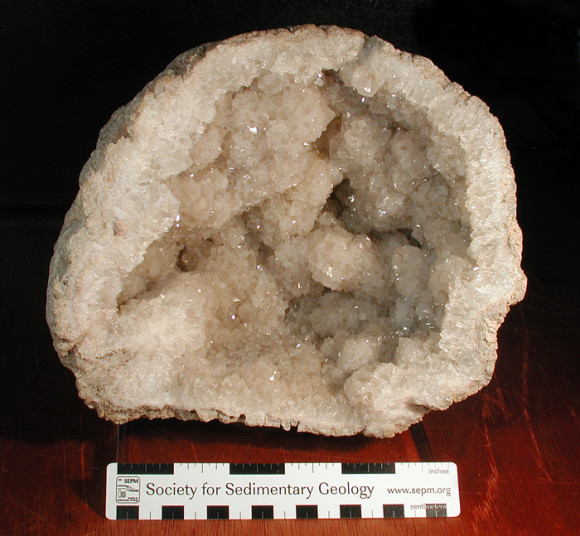 Large quartz geode from Keokuk area- 20 cm diameter. Collected by David Wixom. K. Nash specimen and photo.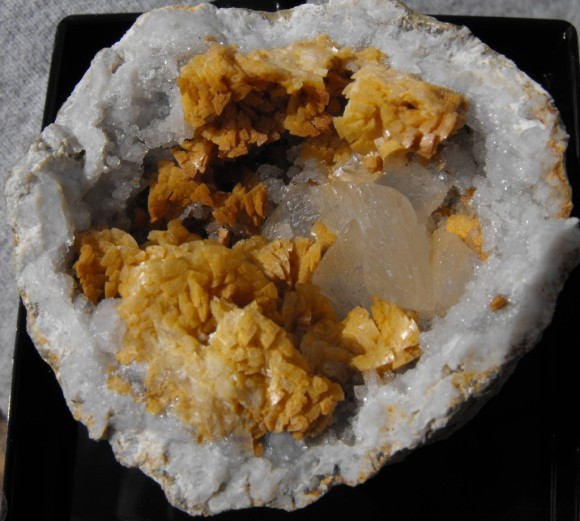 Typical geode and associated minerals (calcite and dolomite) from Keokuk, Iowa area. 4cm x 4cm. Rolf Lutcke specimen and photo. Ex. Paul Griswold
Localities:
Sheffler Rock Shop and Geode Mine:
RR1 Box 171
Alexandria, MO 63430
At junction of Highway 61 and 27, 6mi S of Alexandria
Tim Sheffler
(660) 754 – 1134
tsheffler@mchsi.com
$25 per day for 50 lbs of material. 75 cents for each additional pound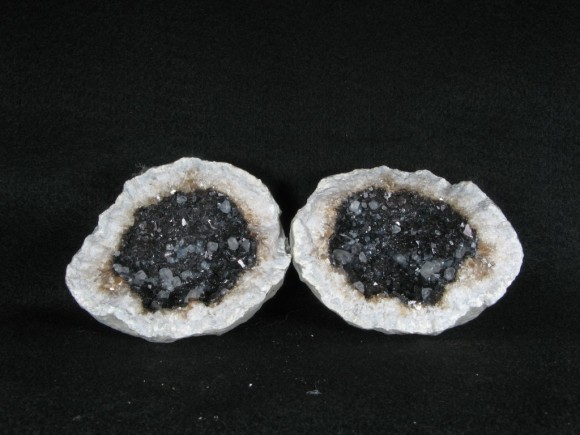 Calcite and quartz geode from the Sheffler Geode Mine. A good specimen for the locality. 10 cm wide. Roger Sedgwick specimen and photo. Collected by owner.
Geodes are very abundant at this locality, hence the high limit for material. They are typically filled with quartz crystals but some other interesting mineralization can be observed. Dolomite, calcite, and pyrite are common accessories. It is best to use a prybar to free the geodes from the limestone matrix and open them at home or wherever they can be carefully cleaned, opened, and sorted.
Des Moines River, Iowa and Missouri
Geodes can be found abundantly in the outcrops on the shores of the Des Moines river. Bring a shovel to loosen geodes from the muddy banks and wash them in the river so the surface features can be seen. Some rocks at these riverbank localities may be deceiving and look like geodes but are just cobbles that have been well-rounded by erosion. These geodes can be filled with a wide variety of minerals and be of extremely varying but most will only contain quartz and typically at most one other species such as calcite or dolomite.
Jacobs' Geode Shop and Mine:
823 East County Rd 1220
Hamilton, IL 62341
(217) 847-3509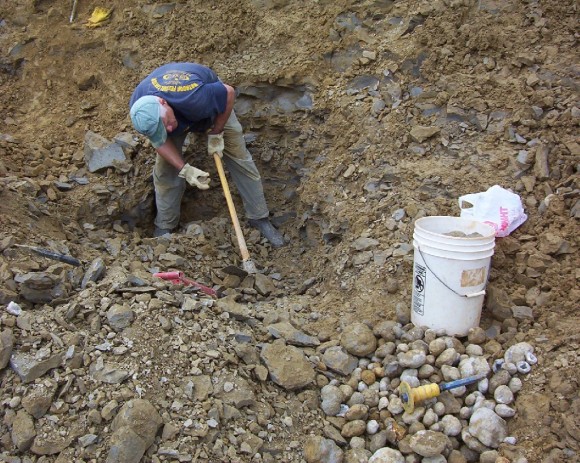 Caption: Collector with large pile of geodes in Jacobs' Geode Mine workings. E. Harrington photo.
Call before visiting. It is best to dig while the owners are around so they can show you the best technique to use at this site. It's a good idea to call in advance to make sure they will be at the mine. The all day fee is reported to be $20. Apparently the owners only allow visitors to crack certain geodes on site so most of the prep work should be done at home. Reported to produce very nice material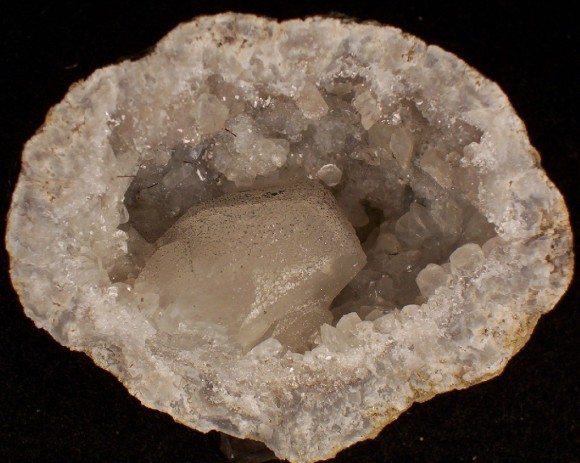 7cm geode with 3.5cm calcite crystal. E. Harrington specimen and photo.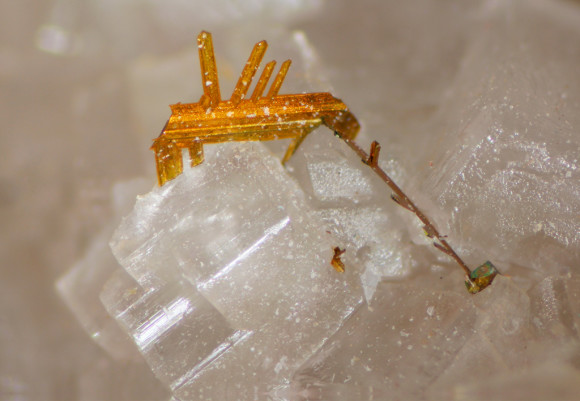 Marcasite crystal in geode. FOV 4.5mm. Collected and photographed by David Hanson.
Dennis Stevenson Geodes:
625 S. 18th St., Hamilton, Illinois
Call ahead to plan a trip: 309-337-3089 or 217-847-2952
$20 for one bucket, $15 for each additional one.
Mostly quartz based geodes, but some have nice calcite crystals as well. A staple Midwestern geode locality.
Find out what minerals Iowa is and has produced, check out what is new on eBay


Related posts: