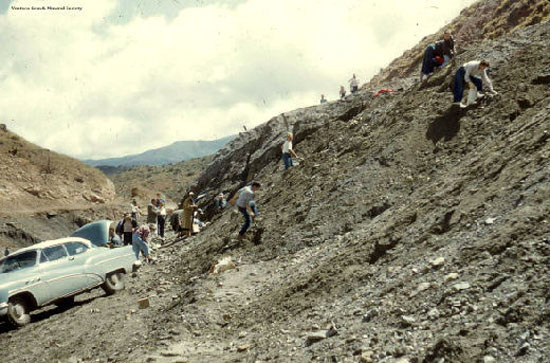 VGMS collecting at Tick Canyon back in 1957
For decades rockhounds have collected tons of howlite from the dumps of Tick Canyon.
To this day, tons of howlite still overflow at the mine dumps, dormant for over 100 years.

View Tick Canyon Howlite Collecting in a larger map
This location, clearly seen on the map above, is amazingly easy to find, park, and collect. The borate mine in Tick Canyon is called the Stearling Borax mine, which had its own mini railroad, a "dinky" sized rail, hauling borates out of the canyon to the station in Lang. The by product of colemanite mining at this location was an odd soft white material, with thin black spiderweb like inclusions running throughout. This material, Howlite, has no economic worth, as it is not an ore of borax, it is found littering the mine dumps.

The old mining area is now fenced off with no trespassing signs. Years ago, this main area was a common field trip location for clubs from all over Southern California. Uncommon minerals like Priceite and Veatchite could be found on the dumps, along with softball sized cauliflower shaped howlite nodules. You would think that with the original mine dump off limits, collecting would be impossible.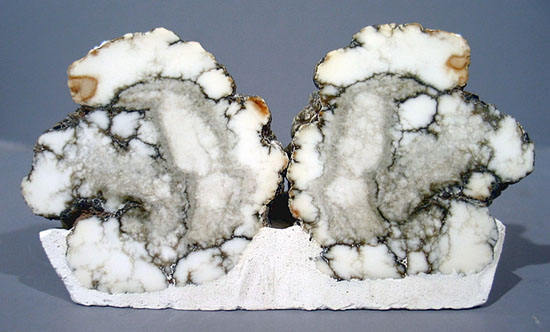 This howlite nodule was cut in half, then mounted in a block of plaster. Photo by MiddleEarthMinerals.com
Something wonderful for mineral collectors, a large amount of the dump was pushed to the other side of Davenport Road, into the canyon below. This huge dump pile is full of howlite, as we found out visiting this location on December 23rd, 2012.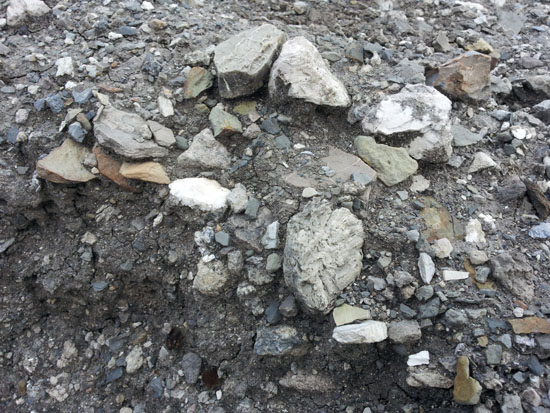 Chunks of white Howlite can be seen in the dark gray dump
Forty pounds of howlite was gathered in what seemed like no time, with no digging required. The howlite was everywhere, even down the wash dozens of feet from the main dump pile.
Howlite is soft enough to carve easily, yet hard enough to be a popular lapidary item for cabbing, tumbling, and polishing.


You can see that the material was so unwanted, they would use it as a filler rock in concrete.
This location is a perfect place for anyone, it is easy, interesting and filled with desirable minerals!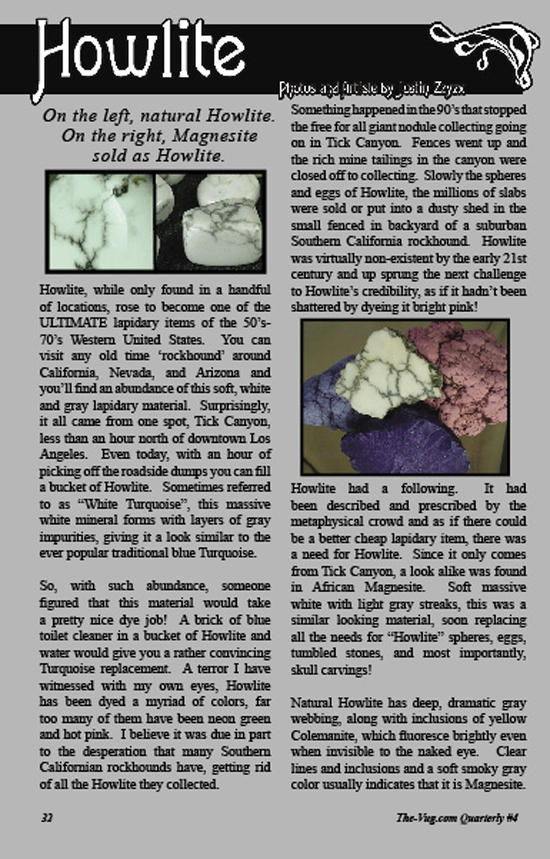 The article above is an excerpt from The-Vug.com Quarterly Magazine Fakes Issue, which was reprinted in the compilation book, available for sale directly from the publisher!
Related posts: