The noon sun hung in the sky with a dull yet irritating heat. It was early Spring, and I was traveling to a place nobody had any reason to be, an empty valley in Central Utah. I grabbed the canteen swaying from my hip, took a hearty swig, and wiped the small beads of sweat slowly forming on my brow. The dry earth crunched with each trod of my heel, one after another like a rhythmic drum, each thud forming a slow monotonous beat.
I took in my surroundings. At surface level there was not much to see, canyon walls and plateaus, little wildlife, and less trees. What little vegetation was found here often amounted to sagebrush. It peppered the dirt in various shades of chartreuse, flowing lightly with the siblant hissing of the wind. I was two miles south of Marysvale, Utah, a small town with less than five hundred residents. On this particular expedition, I was alone.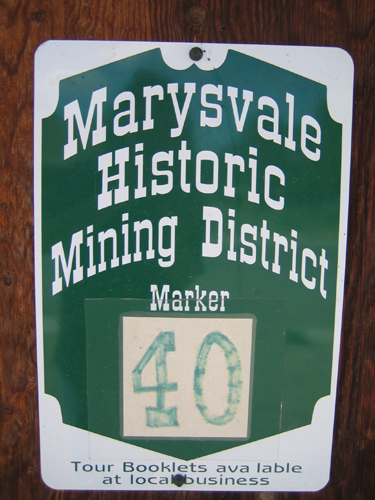 The area I was headed to was the now abandoned Elbow Ranch. On my shoulders slung a backpack stuffed lightly with supplies: a fold up shovel, a pair of gloves, a chisel, a spray bottle of water, a rag, the morning newspaper, a loupe, and a geologists hammer. I also made sure to leave some empty space for any of the various specimens I hoped to collect.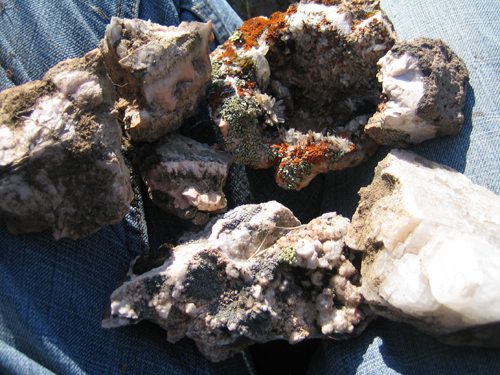 I'd spent the earlier half of the day in the Durkee Creek area. Durkee Creek was much easier to reach than the hike to Dry Canyon had to offer. Most Rockhounds with already impressive collections probably wouldn't have bothered spending the time there. The red-brown earth of Durkee Creek offered an abundance of zeolite, but they were often small specimens that didn't equivocate to the effort involved.
It wasn't until one o'clock that I found an area that had seemingly been untouched. I unfolded the shovel, wedged it between the cracked earth, and began digging. With each downward stroke I hope for the sound of metal scraping rock. It was four feet down where I found it: mordenite, an orangeish pink rock like rusted iron. With my chisel and rock hammer I chipped at the rock, a tedious process requiring delicate precision. When I've made enough of the outline I wedge the pick in and remove the specimen like a loose brick.
A quick spray from the bottle and a wipe of the rag gave the rock a quick polish. The mordenite was about half a centimeter thick, forming a crust for the interior of crystalized white quartz. I held it over head where the light could reach, twisting it in hand, watching it blink and shimmer in the afternoon sun. I recall thinking a familiar thought, an image of this same area long ago. A memory strung together from vague recollections of scientific studies and my own personal imagination. It was a hostile world, fiery and volcanic, but one small pocket of that world had been preserved. A fracture of time lying dormat, imprisoned and pressurized for thousands of years, found by me after a series of seemingly coincidental happenstances.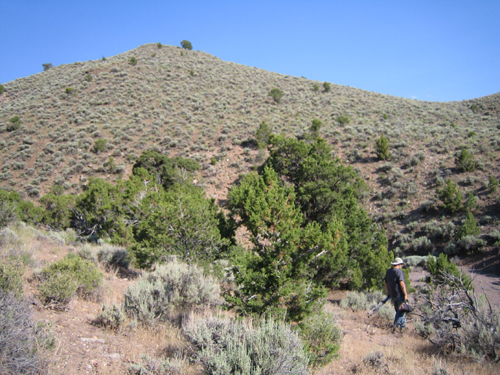 I tore a page from the classified section of the day's paper and wrapped the mordenite with care, then I climbed my way out of the hole. The sun stood due west, glaring. My wrist watch read 4:00 pm. In Marysvale Utah many of the residents are returning from work, preparing for dinner and the days end. I grab the canteen, and wipe my brow. Then I gather my gear and continue on. I've yet to try my luck at the Blackbird Mine.
Gem Trails
by Various Authors
The Must Have, if nothing else than to have an IDEA about the collecting spots in your state, the gem trails books are a wealth of information at a low price. The perfect beginner guides that are refrenced by serious field collectors! Click on the book covers to view them on Amazon, or search the eBay link below.
Related posts:
How to prepare your 4×4 for rock collecting.
Rock collecting may be a popular, family oriented activity, but how often do you think of the safety of your family first when you go off the beaten track to hunt for that one, perfect example of a billion-year-old rock? How often have you heard of people being stranded without food and water for days, just because the driver did not check his vehicle before leaving home? Don't let this happen to you and yours! Simply follow the few easy-to-follow tips listed here to reduce the possibility of vehicle breakdowns when you could be hundreds of miles away from the nearest repair shop.
Check radiator hoses.
This might appear to be self evident, but according to the AAA, engine overheating is the leading cause of vehicle breakdowns in America. Radiator hoses must be firm to the touch, and free of oil, and even oil residue. Oil degrades the rubber of radiator hoses, which makes it imperative that oil contaminated hoses be replaced before your next trip.
Check all V-, and other drive belts.
You may think your belts are OK, but the most damage occurs when the pieces of a broken drive belt work themselves in under the other drive belts. This can cause all your belts to jump their pulleys, and because of their high rotational speed, the flying pieces can destroy the radiator, the battery, the radiator fan, and critically important wiring. When in doubt, don't procrastinate, replace all the belts, and observe the proper tensions on all.
Check the charge rate.
The proper rate of charge on 12 V vehicles is 14.2 – 14.6 Volt. Anything above or below this value is indicative of a faulty alternator, or maybe worse, damage to wiring in places where you cannot repair it in the wilderness, so fix it now, while you can.
Check battery condition.
Don't just look at the outside, and maybe clean off acid accumulations. A battery needs to be able to deliver specific currents at certain times, such as during starting. Have an authorized battery dealer perform a draw test, to determine the ability of the battery to deliver sufficient starting current. Also, compare the specific gravity of the electrolyte in each cell against the specs for your battery. Differences of one or two percent are normal, but differences or deviations that approach 5% are not, and you should replace the battery.
Check the suspension.
Check the suspension and steering systems for excessive free play between related components such as ball joints, tie rod ends, steering dampers, draglinks and control arms. You may think that since the tie rod ends have been a little loose for the last two years, they are OK because they have not pulled from their sockets yet, but off-road driving places extreme loads on a vehicle, and the last thing you want to happen is to lose your steering while going down a steep, rocky hillside. Think of your family, and replace all worn components before you leave home.
Check the brake system.
Check the entire system for signs of leaks, and do NOT forget to check the slave cylinders inside the brake drums. These cylinders can lose up to 60% of their effectiveness before they even start to show signs of leaking, which means you could be driving around with less than 50% of your braking capacity. Moreover, if you had been topping the brake fluid reservoir regularly, but cannot see a leak, remove the master cylinder from the brake booster to check if the brake fluid is not leaking into the booster. If this is the case, replace the entire master cylinder because you can never be sure the rubber seal kits available today will not fail you when you need them most; such as when you are going down a steep, very narrow mountain pass, with a 1000-foot drop off, and no safety barrier.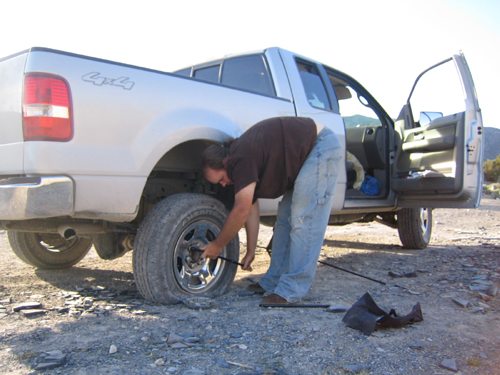 Better safe than sorry.
Performing basic vehicle maintenance procedures before heading into the wilderness is not a hassle: it is a vital precaution against being marooned hundreds of miles from the nearest repair facilities. It is also great way to prevent potentially fatal accidents caused by parts that failed because they should have been replaced months ago, but was not. Think of the safety of your family, if not your own, get your vehicle into great shape, and enjoy the rock hunting, which is what you go into the wilderness for, right? Only make sure that by taking care of your vehicle, you can safely make it out again!
Related posts: